Vitamin C Serum
Anti-Aging with Hyaluronic Acid
$35.00
Description
Syringa Vitamin C Serum is blended and refined to reduce appearance of wrinkles & fine lines while helping boost collagen, fade sun and age spots and improved skin firming.
Improves skin elasticity and hydration
Reduces the appearance of fine lines and wrinkles
Fades age spots and dark marks
Have a healthy, smooth, beautiful complexion
Amount per bottle: 2oz
Anti-Aging Formula including Aloe, Vitamin E and MSM
98% Naturally Derived
72% Organic
20% Vitamin C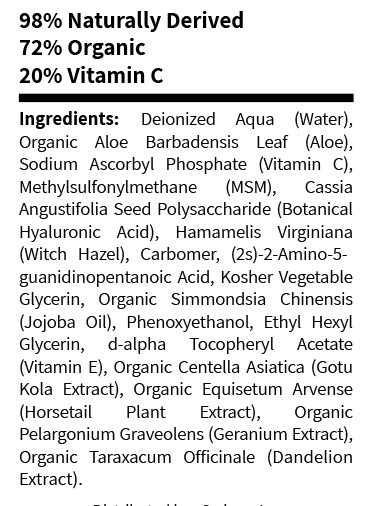 Wash and pat skin dry. Apply small amount with fingertips to freshly cleansed and toned face, neck and decollate areas (avoid direct contact with eyes). Allow time to absorb prior to Replenishing Cream moisturizer application.
For External use only. Discontinue use if redness or irritation occurs. Avoid direct contact with eyes. Keep out of reach of children. Store in a cool, dark place.