Women's Multivitamin
Advanced Daily Multivitamin
$23.00
Description
Syringa Women's Multivitamin provides the perfect balance of vitamins, minerals, and herbs for the unique needs of women. In today's busy world, many women do not get the daily recommended allowance of vitamins, minerals and other nutrients. SYRINGA Women's Multivitamin helps to bridge the nutrient gap in your diet. Utilizing Wild Yam Extract this formula was designed to work perfectly with SYRINGA's famous Resolve Cream, feel the balance inside and out!
Formulated for a woman's unique needs
Potent vitamin and mineral formulation
Contains herbal blends to provide energy & immune support
Contains an herbal blend to support female health (includes Wild Yam Extract)
Easy to swallow gel cap
Amount per bottle: 60 Vegetable Capsules
Potent in Vitamin, Mineral, Wild Yam Extract & B-Vitamin Complex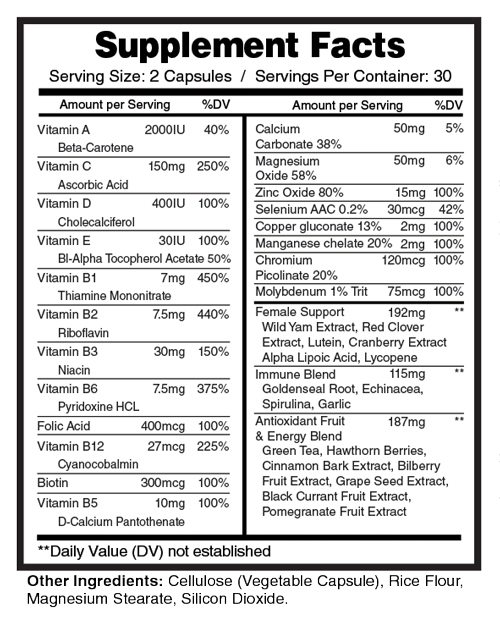 Directions: As a dietary supplement, take two (2) Capsules in the morning with a meal.
Warning: Consult with a physician prior to use if you have a medical condition. Don't use if pregnant or lactating.